An Artful Approach to the Science of Beauty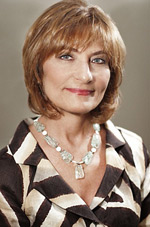 Founder and Aesthetic Director, Denise DeGiulio is a licensed medical aesthetician with over 15 years' experience in skin care and image enhancement. She is an internationally respected authority on therapeutic, preventative, corrective and cosmetic enhancement treatments with VIP clients across the U.S., U.K. and Europe.
Ms. DeGiulio is a Diplomat of, and board certified by, the American Academy of Micropigmentation in the training of permanent makeup. She is frequently interviewed by magazine editors and well-known makeup artists about her makeup and aesthetics expertise. Because of the stellar reputation she has developed throughout the years, many of her clientele are referred by leading plastic surgeons and dermatologists.
A consultant to major cosmetic companies, she has written treatment protocols, created a wide variety of luxury treatments, and trained aestheticians for the country's most prestigious and most luxurious spas. For the past 14 years, Ms. DeGiulio has been the East Coast Training Guru for the PMT/Permark Company, world leader in quality micropigmentation and dermabrasion devices.
A member of three industry organizations, Ms. DeGiulio has dedicated her professional career to using her expertise, talent, intuitive artistry and personal integrity to help her clients attain their goals with style, enjoyment and a sense of personal well-being.
Denise DeGiulio
Expertise • Artistry • Integrity