Our Philosophy About Face Styling and Skin Rejuvenation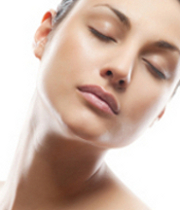 The way you look creates the way you feel…
Our goal is to enhance all areas of your life that our services touch. Anti-aging, cosmetic enhancement, camouflage of skin imperfections, and pleasurable pampering that restores serenity and balance – all these are the services we render in a delightfully relaxed environment. Our private office is conveniently located on West 57th Street in New York City.
Denise DeGiulio, internationally renowned expert in skin treatment and age-management, invites men, women and teens to experience the pleasure of Enhanced Image. She will personally design a skin care regimen that is customized to your unique needs.
Perhaps you're seeking state-of-the-art anti-aging…or you wish to diminish acne, skin discolorations, fine lines, scarring, or other adverse conditions. Perhaps you simply want to find a trustworthy source to help you sort through all the skin-perfecting options that are now available. Enhanced Image will provide the personalized services you need to achieve your goals.
Our commitment is to make you look and feel absolutely wonderful.
"The science of beauty offers a remarkable array of possibilities for anti-aging, camouflage, and skin perfecting. Our expertise in all these areas of service can significantly enhance your image, as we pamper your face, your body and your spirit."
—– Denise DeGiulio, Founder
The Best of Beauty
~
State of the Art Anti-Aging
~
Correction & Camouflage
~
Personalized Service
~
A Pampered Experience